Victoria Beckham showcased her timeless elegance as she stood by her husband David's side on Friday, celebrating Inter Miami's triumphant advancement to the Leagues Cup semi-finals. The 49-year-old fashion icon donned a sophisticated black dress with delicate spaghetti straps, a perfect choice for the exciting game where their team achieved a decisive 4-0 victory against Charlotte FC at the DRV PNK Stadium in Fort Lauderdale, Florida.
With a loving touch, she supported her husband, who also looked dashing in a navy suit adorned with the club's logo, paired with a pale blue shirt. Their 12-year-old daughter, Harper, shared a special moment with soccer legend Lionel Messi as they walked onto the field together before the match.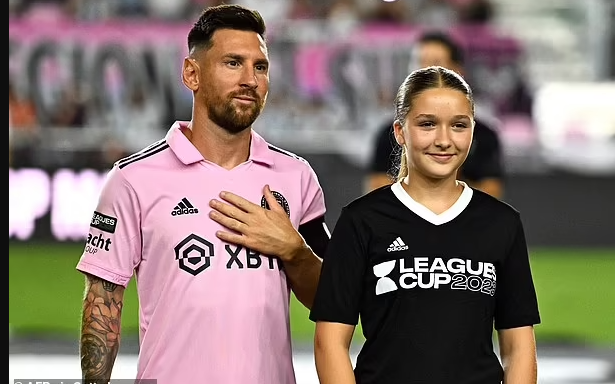 Harper proudly sported a black league cup T-shirt, her long hair elegantly tied back into a sleek ponytail. The stadium was brimming with excitement as Messi's exceptional skills led Inter Miami to the semi-finals of the Leagues Cup, attracting numerous sports figures and celebrities who came to witness the action. Even baseball Hall of Famer and former Miami Marlins owner, Derek Jeter, engaged in a pre-match conversation with Beckham.
Before kick-off, Beckham graciously took a photo with Argentina's World Cup-winning manager, Lionel Scaloni, adding another highlight to the star-studded event. Messi, displaying his brilliance, delivered a remarkable goal that contributed to the team's victory, marking his eighth goal since his arrival in the United States, all accomplished within just five games.
His debut performance against Cruz Azul included a stunning free-kick goal that secured the win, followed by impressive brace performances against Atlanta United and Orlando City in the Round of 32.