Prominent actress and influential figure on social media, Urfi Javed, renowned for her fearless fashion choices, has once again been confronted with the grim underbelly of online interactions, as she received a disturbing death threat over her attire. Speaking out about this unsettling encounter, Urfi disclosed that this unfortunate incident isn't the first time she has been subjected to such alarming threats.
On a recent Wednesday, she shared a screenshot of a deeply troubling email that contained a chilling warning, demanding that she cease what the sender labeled as "polluting Indians" through her public appearances, or else face severe repercussions.
The email, attributed to an individual named Pramod Singh, carried the subject line "Bahut jaldi tere ko goli maar di jayegi" (You will be shot very soon). Penned in Hindi, the message conveyed a direct threat to eliminate Urfi for supposedly spreading what they deemed as "impurity" within India. Alongside the screenshot, Urfi captioned the post with a simple statement, "Just another day in my life." Her post triggered an outpouring of support from online users, who unequivocally condemned the threat. Many advocated for her to pursue legal action against such intimidation tactics, while others lauded her for her unwavering strength and resilience in the face of adversity.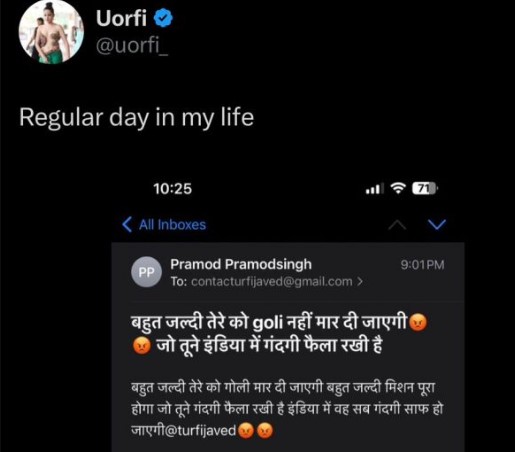 This unsettling incident is unfortunately not the first instance in which Urfi has been subjected to such threats. In the preceding year's December, she had candidly revealed that a former associate from three years back had similarly targeted her with threats. Sharing her experience through Instagram stories, she illuminated the broader problem of such alarming threats that women frequently encounter in the digital sphere. Urfi's disclosure resonated deeply with many, as it brought to light the larger issue of online harassment, underscoring the potential consequences of unchecked online behavior. She emphasized that the threats, aimed at controlling her choices, could effortlessly extend to other women as well.
Throughout her career, Urfi has risen to prominence through her appearances on reality shows like Bigg Boss OTT and Splitsvilla 14. Her recent cameo was in the second season of Bigg Boss OTT. However, beyond her television journey, Urfi's experience underscores the hurdles that individuals, particularly women, confront in an era marked by heightened online interactions.
While Urfi's fearless response to such threats is commendable, this incident serves as a poignant reminder of the ongoing discourse surrounding online safety and the urgent need for collective efforts to combat digital harassment.