British Prime Minister Rishi Sunak has written a letter to the Nepali film "Gorkha Warrior" wishing him success. Prime Minister Sunak wrote the letter on behalf of the British Prime Minister's Office, Ten Downing Street while addressing the Minister of Cultural Affairs, Denim Goling, on August 17.
On July 20, producer and director Milan Chams wrote a letter to the Prime Minister through Cultural Affairs Minister Goling inviting him to attend the premiere ceremony. In response to the letter, Prime Minister Sunak replied that he could not participate in the premiere ceremony due to his busy schedule.
In the letter, Prime Minister Sunak writes, 'I am happy to know about this film about brave Gurkha soldiers, about bravery, sacrifice, and dedication. Thank you very much for the invitation. Unfortunately, I cannot attend the premiere ceremony due to my busy schedule. However, I would like to wish the premiere and the film success. Thank you for the letter.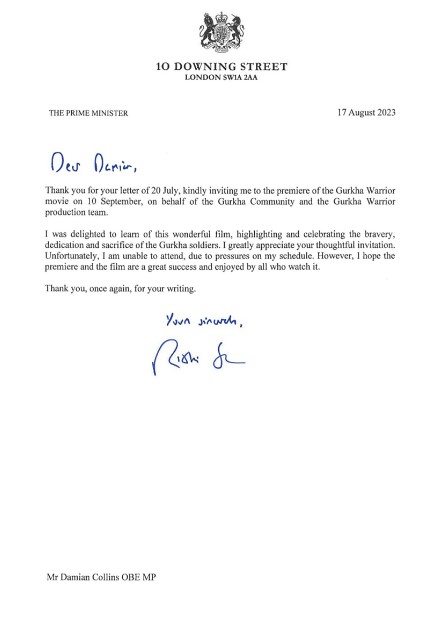 This film is scheduled to premiere on September 10 at the famous IMAX Cineworld in Leicester, UK. Famous Hollywood films have premiered in this hall before. The film presents the story of the war fought in Malaya by Gurkha soldiers serving in the British Army during the Second World War.