Dibesh Pokharel (Arthur Gunn) Biography
Dibesh Pokharel is also known as Arthur Gunn is an American Idol contestant who is a native of Nepal and moved to Wichita, Kansas. He uses Arthur Gunn as his stage name. He moved to Wichita, Kansas about six years ago.  He came to national attention in 2020 as the runner-up finalist on the eighteenth season of the singing reality show American Idol. He started singing in 2014, and released his eight-song debut album, Grahan, in early 2018. He released another album, KHOJ, in 2019 with singles including "Ma," "Khoj" and "Karnali (The River)." He is known for his "textured, sandpapery" vocals.
Dibesh Pokharel was born October 24, 1997 in Kathmandu, Nepal, to parents Datram and Maiya. His family, including four sisters (Rubi, Rupa, and Supriya) was not musical, although he was exposed to music at an early age and grew up with it in his life. While he was child, he sang and played small guitars his mother gave him. His family emigrated to Wichita, Kansas around 2008 when he was eleven but he remained and finished school. He immigrated to Wichita, Kansas around 2014 after graduating high school, and following his sisters who were in school in the U.S., and then was joined by his parents; there he was introduced to bluegrass and country music. His musician friends urged him to audition for AI, and Gunn knew he wanted to be a professional singer-songwriter, and decided it was a good opportunity to learn more about the industry.
American Idol
Gunn submitted an audition online for American Idol (AI) in 2019, and was invited to the September 4 in-person Wichit  auditions for the third season of the rebooted edition—the eighteenth season overall of the show—at Century II Performing Arts & Convention Center. He auditioned with Sticky Fingers' "Eddy's Song" (2011), as of May 2020, the video has been seen over eight million times.
For the live finale, the top five, including Gunn were announced live and they performed two rounds of songs while East coast viewers voted for their favorites during the show. The first round were celebration songs with Gunn singing Gavin DeGraw's 2003 single "I Don't Want to Be". The second round was the contestant's intended debut single if they won with Gunn again singing Creedence Clearwater Revival's "Have You Ever Seen the Rain?" (1971). Both Gunn and Just Sam were announced as top two finalists, with Sam declared the winner.
How old is Arthur Gunn in 2020?
Nepalese-American singer-songwriter Arthur Gunn (Dibesh Pokharel) is 23 years old.
Is Arthur Gunn single or married? Who is Arthur Gunn dating?
The singer maintains a quite secret life and till now Arthur Gunn has not released any personal information. He is currently single and has no girlfriend.
Quick Wiki
Personal Information
Full name : Dibesh Pokharel
Middle name : N/A
Nick names : Arthur Gunn
Birth place : Kathmandy, Nepal
Residence : Wichita, Kansas, U.S.
Date of birth : October 24, 1997 
Age in 2020 : 23
Zodiac : N/A
Ethnicity / ethnic background : Asian/Nepalese
Nationality : Nepalese
Religion : Hindu
Is Arthur Gunn gay? : No
High school : N/A
College : Not available
Weight : 65 Kg
Height : 5′ 8″
Eye color : Black
Hair color : Black
Shoe size / feet size : N/A
Body type / build : Slim
Net worth 2020: N/A
Family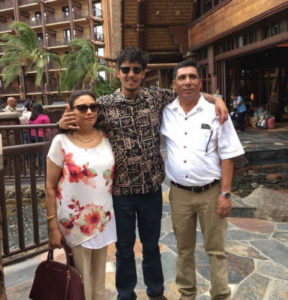 Mother : Maiya Pokharel
Father : Datram Pokharel
Brother : N/A
Sister :  Four sisters (Rubi, Rupa, and Supriya)
Spouse / wife : Unmarried
Children : N/A
Girlfriend /dating : N/A
Follow Arthur Gunn on social media