Anthony Bourdain Biography
Anthony Michael Bourdain was born in June 25, 1956, was an American celebrity chef, author, and travel documentarian who starred in programs focusing on the exploration of international culture, cuisine, and the human condition. Bourdain was a 1978 graduate of The Culinary Institute of America and a veteran of a number of professional kitchens in his long career, which included many years spent as executive chef at Brasserie Les Halles in Manhattan. He first became known for his bestselling book Kitchen Confidential: Adventures in the Culinary Underbelly (2000).
Early life / Career
Anthony Bourdain was born on June 25, 1956 in New York City, and was the older of two sons of Pierre and Gladys Bourdain. Although Bourdain was not raised in a specified religion, his father was Catholic, while his mother was Jewish. At the time of Bourdain's birth, his father was a salesman at a New York City camera store as well as a floor manager at a record store. Pierre Bourdain later became an executive for Columbia Records, and his mother was a staff editor at The New York Times. Bourdain was known to be a heavy smoker. He finished two-pack-a-day cigarette.
Bourdain's love of food was kindled in his youth while on a family vacation in France when he tried his first oyster on a fisherman's boat. He graduated from the Dwight-Englewood School, New Jersey in 1973. Then enrolled at Vassar College, but dropped out after two years. Bourdain attended The Culinary Institute of America, graduating in 1978. From there he went on to run various restaurant kitchens in New York City.
He first became known for his bestselling book Kitchen Confidential: Adventures in the Culinary Underbelly (2000). The acclaim surrounding Bourdain's memoir Kitchen Confidential led to an offer by the Food Network for him to host his own food and world-travel show, A Cook's Tour, which premiered in January 2002. It ran for 35 episodes, through 2003. Bourdain appeared as himself in the 2015 film The Big Short, in which he used seafood stew as an analogy for a collateralized debt obligation. He also produced and starred in Wasted! The Story of Food Waste.
Is Anthony Bourdain married or single ? Who is he dating ?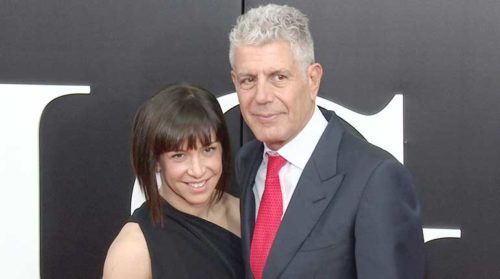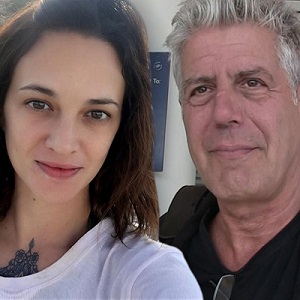 Bourdain married his high school girlfriend, Nancy Putkoski, in 1985, and they remained together for two decades, divorcing in 2005. On April 20, 2007, he married Ottavia Busia, a mixed martial artist. The couple's daughter, Ariane, was born in 2007. The couple separated in 2016. In 2017, Bourdain began dating the Italian actress Asia Argento, whom he met when she appeared on the Rome episode.
Is Anthony Bourdain Dead? What is the cause of death?
On June 8, 2018, Bourdain died by suicide while on location in France. He subsequently found Bourdain dead of an apparent suicide by hanging in his room at Le Chambard hotel in Kaysersberg near Colmar. His body was cremated in France on June 13, 2018, and his ashes were returned to the United States two days later.
Anthony Bourdain Net worth in 2020
Celebrity chef, author, and television personality Anthony Bourdain died of an apparent suicide in France on June 8, and despite reports that he had amassed a $16 million fortune.
Quick Facts:
Personal Details
Name: Anthony Bourdain
Full Name : Anthony Michael Bourdain
Birth place : New York City, USA
Date of birth : June 9, 1956
Age in 2020 : 64
Died : June 8, 2018 (aged 61)
Zodiac : Gemini
Ethnicity : White
Nationality : American
Religion : N/A
School /college : Dwight-Englewood School, Vassar College, The Culinary Institute of America
Net Worth: $16 million
Weight : N/A
Height : 6′ 4″
Hair color : Grey
Body type / build : Average
Job : American celebrity chef, author, and travel documentarian
Coking Style : French; eclectic
Family
Father : Pierre Bourdain
Mother : Gladys Bourdain
Sister : N/A
Brother : 2
Spouse /Wife : Nancy Putkoski (m. 1985; div. 2005), Ottavia Busia (m. 2007; sep. 2016)
Girlfriend/affairs/dating : Italian actress Asia Argento
Children /kids : Ariane
Anthony Bourdain Website