Stacy Keibler Biography & Wiki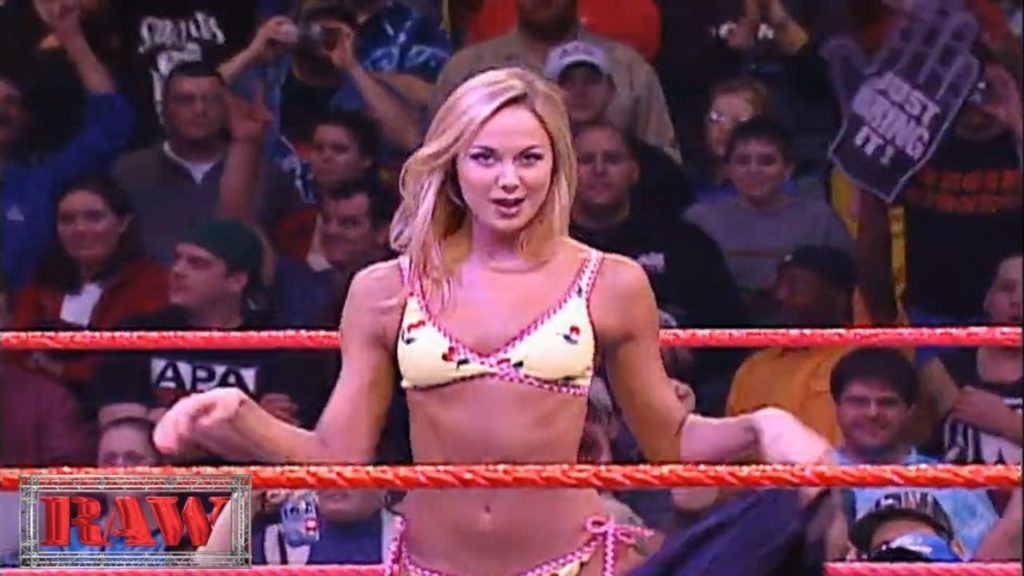 Stacy Ann-Marie Keibler is an American actress, model, and former cheerleader, and professional wrestlerand valet, specifically for her work with World Championship Wrestling (WCW) and World Wrestling Entertainment (WWE).
Stacy Ann-Marie Keibler was born on October 14, 1979, in Rosedale, Maryland, the daughter of Patricia and Gary Keibler. Beginning at the age of three, Keibler took ballet, jazz, and tap dancing classes at Jean Kettell Studio of Dance in Dundalk, Maryland. She went to St. Clement Mary Hofbauer School in Rosedale for her early schooling. After attending The Catholic High School of Baltimore, an all-girls school, Keibler attended Towson University, where she studied mass communication. She attended the university on a partial scholarship and had a 3.7 grade point average (GPA).
Keibler was a contestant on Dancing with the Stars: season two, where she placed third. She has also appeared on other ABC series such as What About Brian, George Lopez, and October Road, as well as the 100th episode of the CBS sitcom How I Met Your Motheras a bartender and on the USA Network show Psych. Keibler has also modeled, appearing in both Maxim and Stuff magazines.
She began her professional wrestling career as a part of the Nitro Girls in WCW. She quickly moved on to a more prominent role in the company as the manager, Miss Hancock. As Miss Hancock she was known for doing table dances, her relationship with David Flair, and a pregnancy angle. After WCW was purchased by WWE, she moved to the new company, taking part in the Invasion storyline and managing the Dudley Boyz. Keibler also managed Test and Scott Steiner. Before her departure she was affiliated with The Hurricane and Rosey and nicknamed "Super Stacy."
Keibler is considered to be a sex symbol and is known for her unusually long legs. She has been known as both "The Legs of WCW" and "The Legs of WWE". During her time on Dancing with the Stars, judge Bruno Tonioli nicknamed her "The Weapon of Mass Seduction" because of her long legs.
Is Stacy Keibler single or married? Who is Stacy Keibler dating ?
Keibler's boyfriend of seven years from 1992–1999, Kris Cumberland, was a wrestling fan who first got her interested in wrestling. In 2000, Keibler dated David Flair during their time together in WCW. From 2001–2005, Keibler dated Andrew "Test" Martin while they both worked together in the WWF/WWE. n June 2005, Keibler was reported to be in a relationship with actor Geoff Stults. Keibler started dating George Clooney in July 2011. Clooney and Keibler ended their relationship in July 2013.
Keibler began dating Future Ads CEO Jared Pobre in fall 2013, though they had been friends for several years previously. They were married on March 8, 2014 in Mexico.They have two daughters, Ava Grace, born on August 20, 2014,Isabella Faith, born in May, 2020, and one son, Bodhi Brooks, born on June 18, 2018.
Quick Facts:
Stacy Keibler weight
130 lbs (59 kg)
Stacy Keibler height
5′ 11″ (180 cm)
Stacy Keibler body measurement
34-22-35 in
Stacy Keibler bra size / breast size
34B
Stacy Keibler hair color
Dyed Blonde
Stacy Keibler eye color
Hazel
Stacy Keibler shoe size / feet size
9 US
Stacy Keibler dress size
24
Stacy Keibler body type / build
Athletic
Stacy Keibler waist size
22 in
Stacy Keibler hip size
35 in
Does Stacy Keibler have breast implants?
No
Stacy Keibler net worth 2020
$4.5 Million
Stacy Keibler full name
Stacy Ann-Marie Keibler
Stacy Keibler middle name
Ann-Marie
Stacy Keibler nicknames
The Weapon of Mass Seduction,
Miss Hancock,
Skye
Stacy Keibler birthplace
Baltimore, Maryland, USA
Stacy Keibler date of birth
October 14, 1979
Stacy Keibler age in 2020
41
Stacy Keibler zodiac
Libra
Stacy Keibler ethnicity
White
Stacy Keibler nationality
American
Stacy Keibler religion
She has not outspoken about her religious beliefs. But, it is known that she went to a catholic scho
Is Stacy Keibler gay?
No
Stacy Keibler high school
St. Clement Mary Hofbauer School, The Catholic High School of Baltimore
Stacy Keibler college
Towson University
Stacy Keibler spouse/husband
Future Ads CEO Jared Pobre
Stacy Keibler boyfriend/affairs/dating
Jared Pobre George Clooney Jamie Foxx Geoff Stults Andrew Martin David Fliehr Kevin Connolly
Stacy Keibler children/kids
daughter, Ava Grace Pobre
Stacy Keibler mother
Patricia Keibler
Stacy Keibler father
Gary Keibler
Stacy Keibler sister
N/A
Stacy Keibler brother
N/A
Stacy Keibler job
Actress,
Model,
Professional Wrestler,
Singer-songwriter
Stacy Keibler website
Stacy Keibler ring name
Miss Hancock
Skye
Stacy Keibler
Super Stacy
Stacy Keibler trained by
WCW Power Plant
Stacy Keibler agent / talent agency
William Morris Endeavor,
Untitled Entertainment
Stacy Keibler favorite movies
Grease [1978],
There's Something About Mary [1998]
Stacy Keibler favorite food
Chicken
Stacy Keibler favorite colors
Red, Yellow