Maya Jama made a striking appearance in Love Island Games, flaunting her generous cleavage in a revealing, busty top. The host, who traveled to Fiji for the all-star series, presented a bold image in a spaghetti strap corset that accentuated her curves.
In this particular episode, Maya, aged 29, observed a competition between Megan Barton Hanson, dressed in a bikini, and Love Island Australia's Jessica Losurdo, in a Gladiators-style challenge. Megan, donning a shimmery pink thong bikini, seemed to be successfully fending off her opponent with a giant foam boulder.
Megan has her sights set on French islander Steph Blackos, who is currently coupled up with Jessica. Meanwhile, Maya shared a series of Instagram photos on Friday, in anticipation of a new episode of Love Island Games.
Maya's latest post sent her fans into a frenzy, as the exquisite embroidered outfit beautifully enhanced her well-toned curves. In the photo, Maya radiated with her loose, curly brown hair, a rosy blush on her cheeks, and a nude lipgloss.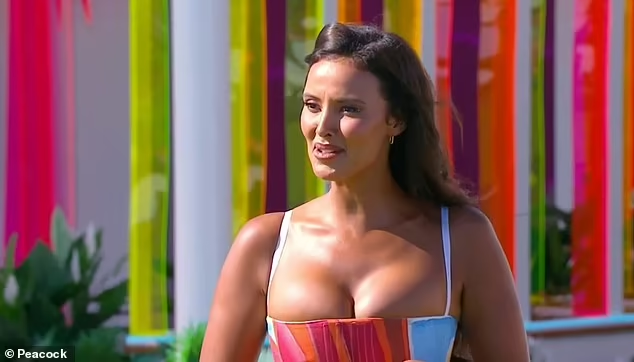 The TV personality also shared another daring look from her carousel, going braless in a silk dark purple dress that she wore unbuttoned, drawing attention to her cleavage. She exuded glamour in this audacious outfit, complemented by matching sparkling purple strappy heels that showcased her long, toned legs.
Maya captioned her post with excitement about the first episode of Love Island Games, expressing her delight at the positive responses it received. She also mentioned the upcoming second episode.
Accompanying a promo trailer for the highly anticipated show, Maya shared a striking clip of herself aboard a helicopter. She amped up the allure in a zipped leather mini dress and showcased a glamorous makeup look, complete with glossy lipstick. Another image featured her posing with a friend on the same helicopter, sporting cat-eye black shades.
Maya continued to captivate her audience in the jaw-dropping purple dress, strutting her entrance and casting a sultry gaze toward the camera.
For the premiere episode of The Love Island Games, Maya made a sensational entrance by arriving on the sandy shores of Fiji in a helicopter. She maintained her stunning appearance in the same leather mini dress, strutting along the beach after touching down in the luxurious chopper.
Love Island Games commenced in spectacular fashion, bringing together contestants from the international franchise for a second chance at finding love.