Actress Katherine Heigl caused quite a stir in busy New York when she decided to change her outfit in the middle of the bustling street. Despite being a well-known actress, the 36-year-old starlet showed that she is not afraid to laugh at herself as she got caught up in the moment and started stripping off her neon pink and black cycling outfit. 
In no time, she had transformed into a white pencil skirt and turtleneck top, which was more appropriate for work. However, during her quick wardrobe change, Katherine inadvertently flashed her knickers, much to the surprise of onlookers.
In Doubt, Katherine plays the role of a successful defense lawyer named Sadie Ellis. The show also stars Laverne Cox, who plays the role of a trans-Ivy League-educated attorney. The crew was filming a reboot of the pilot episode when the incident happened.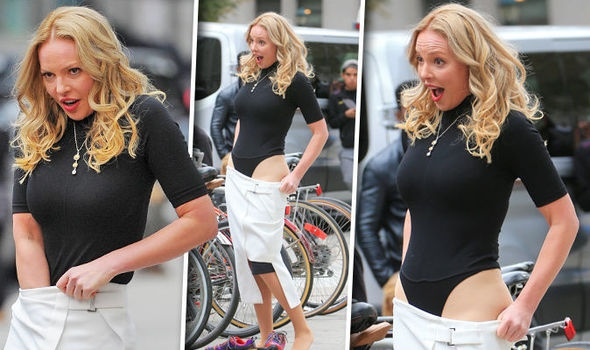 Katherine's husband, Josh Kelley, recently spoke out to defend her after she was criticized for criticizing her own film, Knocked Up, in 2007. Josh defended his wife, saying that she is never late and never misses a mark and that she is the least difficult person in the world.
 He also noted that everyone who has worked with Katherine loves her and that it is interesting how people can make things up and create a negative perception of someone.