Deepa Shree Niraula Biography & Wiki
Deepa Shree Niraula is Nepalese actress, comedian, and radio personality best known for her role in the Nepali television serial Tito Satya. She was born on 23 August, 1975 at Biratnagar from father Tulsi Prasad Niraula and mother Gita Devi Niraula. She gained prominence among the Nepali audience after her well-known role of Dhaniya in the radio show Dhaniya ko Duniya. She is the director of one of the highest grossing Nepali comedy film Chhakka Panja. After the success of 'Chhakka Panja', Deepa has also established herself as a successful director in Nepali cinema industry. Before this film project, Deepak and Deepa together with another comedian Nirmal Sharma aka Gainda had produced two superhit comedy movies 'Woda Number 6' and 'Chha Ekan Chha'.
After the grand success of 'Chhakka Panja' & Chhakka Panja 2′, the post production of Deepa directed third sequel movie 'Chhakka Panja 3' , Cha Maya Chapakkai in 2019. All the movies did good in box office collection.
Deepa started her acting career through Tharu Cinema, working as lead role in Hatai Kuhira, which is filmed in Tharu languages. Then she made her first debut in Nepali cinema and television serial Tito Satya.
Two comedy programs – radio program 'Dhaniyako Duniya' and TV serial 'Tito Satya' are credited to make Deepa a popular actress. Deepa's team up with comedy actor Deepak Raj Giri has been termed as the best team in the Nepali entertainment industry after the comedy duo Madan Krishna Shrestha and Hari Bamsha Acharya (MaHa).
Deepa has travelled to many foreign countries for stage programs. Some of the countries in which she has performed include USA, UK, Malaysia and various countries of Europe and Middle East.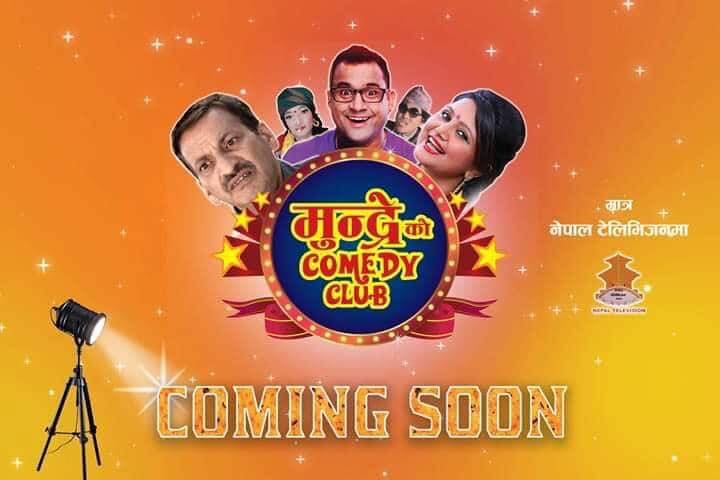 She is also working with Jitu Nepal on a comedy show "mundre ko comedy club".
Is Deep Shree Niraula married or single? Who is Deepa Shree Niraula Dating ?
Although she has completed her 30s and entered in 40s, Deepa hasn't married yet. She is rumoured to be in affair with Actor Deepak Raj Giri, they both deny such relationship. Deepak is married and is father of two grown up sons and a daughter.
Deep Shree Niraula Age in 2020
45 years
Deep Shree Niraula Net Worth in 2020
Deepa and Dipak team produced Chha Ekan Chha and Chhakka Panja Movie Series. Chakka Panja is the movie which became commercially successful and became highest-grossing Nepali film. Deepa Shree Niraula's total net worth is estimated to around 3-8 crores. Beside, she is the owner of Kingsway Cafe.
Quick Facts
Deepa Shree Niraula Personal Information
Full Name: Deepa Shree Niraula
Real Name: Deepa Shree Niraula
Nick Names: Dhaniya
Birthday: August 23, 1975
Age: 45
Birth Place: Biratnagar, Nepal
School : Aardarsha High School
College/University: N/A
Education: I.A
Profession: Nepalese actress, Comedian, Radio Personality, Director, Producer, Dancer
Nationality: Nepalese
Ethnicity/Race: Asian
Religion: Hindu
Zodiac: Aries
Known for: Radio program 'Dhaniya ki Duniya'
Net Worth : 3-8 crore
Deepa Shree Niraula Measurement
Height: 5 feet 3 inches
Weight: 55 kg
Feet Size: N/A
Dress Size: N/A
Shoe Size: N/A
Body Measurement: 34-29-36
Chest Size: 34
Waist Size: 29
Hip Size: 36
Bra/ Breast Size: 36 D
Body Type: Slim
Hair Color: Black
Eye Color: Light Brown
Net Worth: N/A
Deepa Shree Niraula Movies
Debut Tele-serial – Agnipath (2048 BS)
First stage show – 2040 BS in Biratnagar
First Radio program – The Guest (Radio play)
First Movie – Naso (2054)
First movie in leading role – Sangini
Debut Tharu Cinema: Hatai Kuhira
Debut film (Director): Chhakka Panja
Deepa Shree Niraula Awards
Abhinayashree Award (Best new actress, 2048 BS)
Deepa Shree Niraula Family
Father: Tulsi Prasad Niraula
Mother: Gita Devi Niraula
Sister: N/A
Brother: N/A
Spouse/Husband: Unmarried
Boyfriend/Affairs/Dating: Deepak Raj Giri
Children: N/A
Deepa Shree Niraula Facts/ Controversy/ Scandal
She is known for her role in comedy sitcom 'Tito Satya' broadcasted by Nepal Television. The serial became so popular that it ran for more than 12 years with more than 600 episodes.
Deepa hasn't married yet although she is in 40's.
Deepa had got public attention after she began the radio program 'Dhaniya Ki Duniya' with another acclaimed comedian Deepak Raj Giri.
After the success of 'Chhakka Panja', Deepa has also established herself as a successful director in Nepali cinema industry.
Deepa has studied up to Intermediate in Arts (I.A).
For best new actress, Deepa had won Abhinayashree Award in 2048 BS.
The film production team led by Deepak Raj Giri after success of 'Chhakka Panja' had also gifted Deepa with a car.
Deepa and her artists friends are running Kingsway Café.
Deepa bought a house at the time of the New year in 2070 BS. The house located at Mid-Baneshwor area.
She has been a vegetarian for the last 18 years. She is also a religious person and is into meditation.
Deepa Shree Niraula Website